Bringing a new drug, therapy, or medical device to market is a time-consuming and cost-intensive process. In fact, the average clinical trial takes six or seven years to complete with a typical price tag of $2.6 billion.
Though there's no way to speed up research and development, there are steps you can take to make the process easier for you and your team. One of those steps is partnering with a Functional Service Provider (FSP).
FSPs (like Harbor Clinical) offer a wide range of clinical trial services on an à la carte basis. That makes it easy to select the services you need without going over budget or paying for unnecessary resources.
The changing realities and ongoing challenges of clinical research mean FSP outsourcing is an important outsourcing tool for the long term. One study even found that the number of pharmaceutical companies relying on FSPs is growing at more than 13% annually.
There are dozens of FSPs out there, but there's only one Harbor Clinical. We've made it our goal to reinvent the FSP model to be fully Functional, Flexible, and Fractional.
Let's take a closer look at what that means:
At Harbor Clinical, we believe that the outsourcing model should adapt to meet the sponsor's needs; not the other way around.
1) Functional:
Whether you need one FTE or an entire department staffed, our resource forecasting process aligns staffing to your needs and rebalances periodically. You avoid the cost of recruiting, training, and downsizing. Additionally, with access to our global network, we can arrange to have non-core activities like data management, SAS programming, and site payments performed in low-cost countries.
2) Flexible:
No two clinical trials are exactly alike, and no two sponsors have the same needs. Each sponsor has different resourcing requirements, and each study has unique timelines and parameters. Instead of offering a one-size-fits-all solution, we take a flexible approach.
During our first meeting, we conduct a thorough interview to fully understand your goals and needs. We use that information to develop a custom resourcing plan that aligns with your budget while meeting quality assurance and regulatory standards.
As needs change during the research process, you can scale up or scale down services at any time. No matter the scope of your project –– big or small –– we have a proven process that leaves nothing to chance.
3) Fractional: Most FSPs only provide dedicated teams or individuals. At Harbor Clinical, we offer "fractional" services. For example, if a sponsor company needs help with a particular aspect of the trial process, but they don't need a full-time employee to serve in the role, we can help fill the gap and complete the project. This flexibility makes it easy for us to adapt and meet the needs of any situation.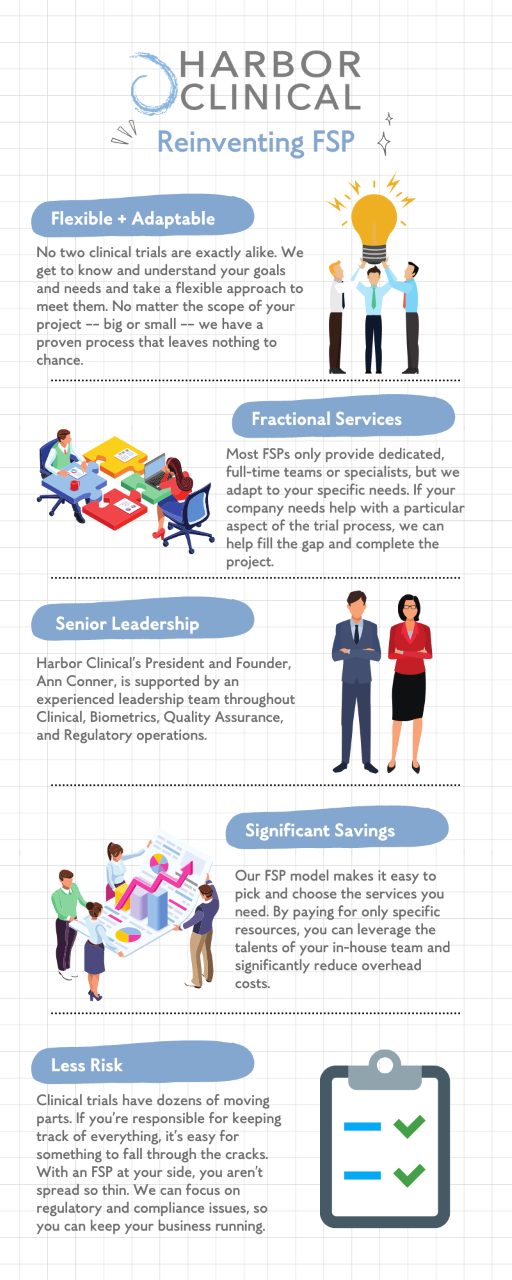 Our experienced leadership team is available to meet with you to discuss your needs and outline a plan for FSP resourcing. Our FSP model makes it easy to pick and choose the services you need. By paying for only specific resources, you can leverage the talents of your in-house team and significantly reduce overhead costs. What's more, as soon as the contract is up, you're done paying. There are never any change orders, surprise bills, or hidden fees.
How can we help you?
No matter your needs, we have the knowledge and expertise to assist. Our FSP services include:
● Quality Assurance
● Vendor oversight
● Clinical Operations
● Medical Writing
● Regulatory Affairs
● Biometrics
● Clinical Data Management
● Programming
To learn more about our Functional, Flexible, and Fractional FSP model, please get in touch. Call (781) 775-0342 or visit our website and fill out an online contact form. We look forward to hearing from you!