In every organization regardless of industry, team meetings are a big part of a normal work day/week. Meetings are critical to ensure adequate communication across team members, especially in today's environment with a highly diversified workforce that operate in multiple locations. It is certainly a common experience that some meetings are not as efficient as others and some are downright not worth the time spent at them! This blog focuses on some useful approaches for conducting effective meetings, specifically in a clinical study.
One useful meeting to consider implementing is a Weekly Priority Meeting on a project ideally on Monday mornings ideally no more than an hour in duration. While the concept is intuitive, focusing on the priorities for each week is not a common meeting topic. If done well, each team member or lead will have a crisp understanding for what is important for the particular week and will have an opportunity to voice additions or updates to what's defined as a priority by the Project Manager (PM). The key to making this an efficient meeting is for the PM to keep the dialogue interactive allowing engagement by the attendees. When this occurs alignment of the priorities is achieved, new challenges or issues are surfaced in a transparent manner, and generally the attendees leave the meeting more engaged as a project team. This forms a cohesive team which will more often result in successful project execution and ensures that the PM receives a current assessment of all aspects of the project.
A simple example of a priority meeting is detailed in the table below. To make this meeting effective, this list is generated in advance of the meeting and is reviewed with the project team members. The PM chairs this meeting and goes through the list of priorities engaging the team on the tasks/activities. In the example, there may not be an actionable priority for a specific team member, but including that topic allows that individual to share something relevant in their discipline which may identify a priority that was not captured on the list.
A second useful PM meeting is a monthly or quarterly Budget Cost Meeting. A suitable term for this meeting can be Project Management Meeting (PMM). One approach can be to setup the PMM with the discipline leads in Data Management and Clinical Trial Monitoring, the Project Manager and the organization's Finance Team Member. If the size of the study is large where other discipline leads have sizable budget and scope, they can be added as attendees. If a large scope of work was outsourced to a Functional Source Provider (FSP), that organization would be an ideal party to attend PMM. During this meeting, discussion on project performance from a cost, schedule and resources is emphasized. Discussion of any deliverables, change orders, financial accruals, or any inter-team dependencies affecting project performance among the project leads are suitable topics. The Weekly Priority Meeting engages the broader team, while the PMM is with a smaller team focused on the broader project aspects. From a cost perspective the primary PMM discussion topic looks at cost budget versus actual cost expended in the past month(s) which can be trended to show performance over a period of time – this is sometimes referred to as "Picket Fence Data". The two figures below show two examples of data which can be reviewed at PMMs: FSP Cost Accrual and Site Budget Accrual.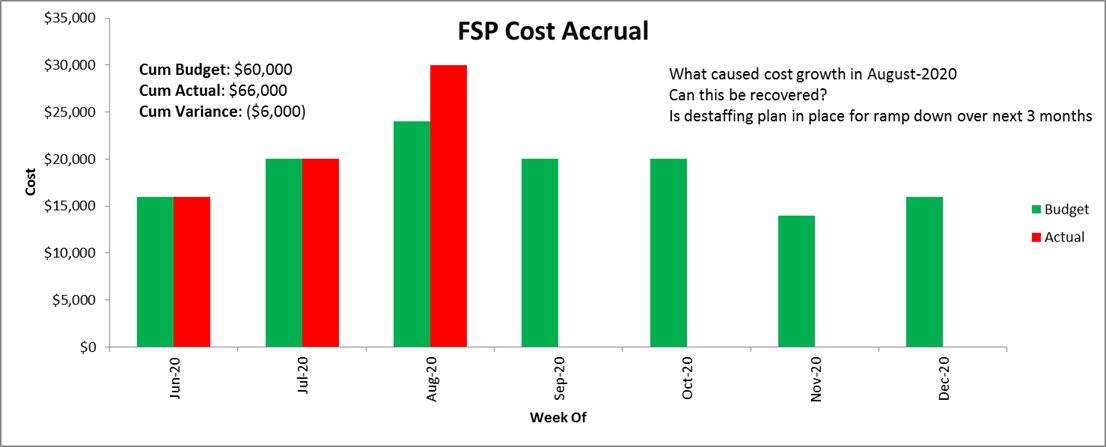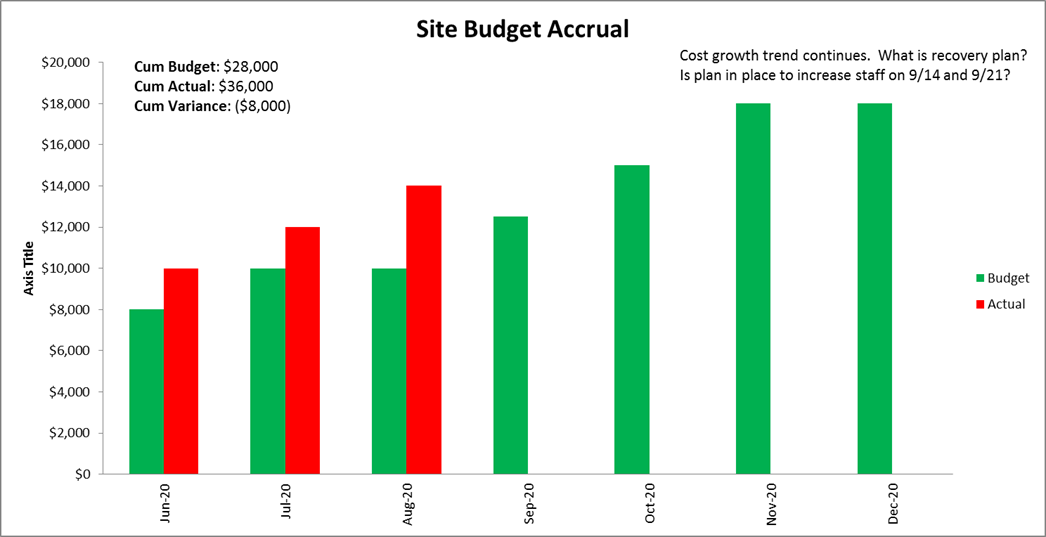 These two graphics can be prepared in advance of the meeting to discuss with the discipline leads and FSP what the data indicates. Meaningful conversation can be held about past performance and equally as important, about future projections, as indicated by the questions in the figures. For the Project Manager a cumulative cost assessment is also identified in this graphic.
Organizing the artifacts from these meetings in a common shared access network folder provides a means to trace back key discussions and topics. The PM keeping the file up to date incorporating key discussion points during the meeting is an essential responsibility that can be of value to resurrect past history to reconcile open items, perhaps for issuing a change order. Implementing meetings on your clinical study project as described herein will be worth the initial time investment to increase team engagement, awareness, and increase project efficiency.